Sky-Trestle™ is the highest quality suspended railway systems for "G" Scale model railways available today. Our systems are designed and constructed for heavy-duty continuous use, such as in professional offices or restaurants where the trains operate non-stop as well as in private residences.
Quality Materials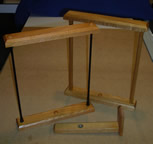 The standard version is made from the finest quality, kiln dried, solid red oak with a high quality stain and finish of your choice. Numerous other hardwoods such as alder, ash, bass, birch, cherry, mahogany, maple, white oak and walnut may be special ordered. In addition, unfinished systems are available.
Both Wall and Ceiling Suspension
Because our systems offer both wall and ceiling brackets, we are able to accomodate ceilings or walls of any height or type of construction. In addition, our brackets are designed to support much more weight than would ever be on the tracks. The width of your system (standard G Scale systems are 7") will depend upon the gauge, roadbed material, configuration (single vs. dual track), guard rail type or any other specific requirements.
Modular Construction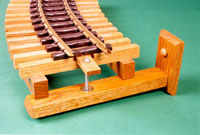 SKY-TRESTLE systems are completely modular. All the modules are joined with a mechanical connecting system that is very secure, allows for interchanging modules, and is easily adjustable. Additional sections may be added or modified at any time simply by disconnecting the existing platform from the anchor bolt. Other manufacturers use hot glue to connect the platforms, which does not allow any adjustments, modifications or additions.
Custom Systems
We design our systems on state of the art computers and have most components milled on computer controlled milling machines to meet our high accuracy standards. If our standard components do not meet your unique requirements, we will design and manufacture custom components. In addition, guard rails, signals, tunnels and bridges are also available and add to the uniqueness and character of your system.
Installation
Installation can be done successfully by anyone with basic woodworking skills, such as drilling, leveling and measuring. Professional installation may also be available in your area at an additional charge.
Please contact us so we can begin designing your dream system today!